Sign up for New Orleans Housing Classes here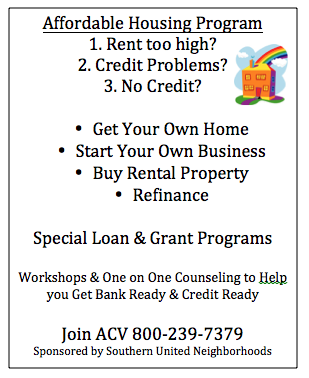 As of January 1st, 2017, Southern United Neighborhoods will no longer be a part of the Louisiana Homebuyers' Education Collaborative. Verification of Training letters are good from SUN that are dated before Jan 1st, 2017 will be honored by the Louisiana Finance Authority of New Orleans (FANO).   We will still be running classes and doing loan counseling to help folks who need to qualify for traditional loans. We work with people one on one to get them qualified and are not just doing classes that fail to qualify you for a home loan.

Please call us before you sign up for a Credit Repair program, as no one can take things off your credit report but you. Don't be scammed. SUN can help you learn what you need to do to get your credit straight or to build credit.
The counseling services, affordable housing educational services, and rehabilitation programs and other forms of assistance that may be offered by Southern United Neighborhoods, its subsidiaries, affiliates or directors, officers, employees, agents or partners may also be offered by other providers and you are under no obligation to utilize services from SUN regardless of the recommendations made by counselors. Our financial industry partners include the City of New Orleans. SUN referral List Sheet1

Pre-Purchase Homebuyer Training Program
Southern United Neighborhoods offers pre-purchase homebuyer training and counseling to help you get bank ready and credit ready.  When available, these programs provide assistance to help with down payment and closing costs.  We also help people secure traditional loans and take advantage of other special loan programs offered by lenders and city and parish governments.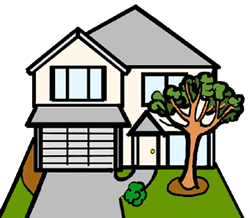 Homebuyer Club Workshop Classes for clients. These clients need a little extra time to establish or repair credit, save for downpayment or closing costs and reduce debts. Classes are FREE and held on the 1st Thursday of every month for 6pm.  We have helped people with really bad credit get into their own homes.  If you have a dream, we will help you achieve it.
Optional One on One Credit Counseling is $10/month. SUN will work with you in detail to go over your credit, budgeting and help you step by step. This option is good if you need extra help on your credit.
Please fill out SUN Initial Affordable Housing Intake Form to start your credit counseling.  Email to director@southernunitedneighborhoods.org or fax to 504-617-6215. Also you may bring this form to 2221 St. Claude Avenue New Orleans, LA 70117.
Please call us at 1-800-239-7379 and let us know if you require assistance for any disabilities or impairments, as well as translation services. Translation services are provided by Certified Languages International.
Clients are free to use the lender of their choice to secure their mortgage loans.
New Orleans Classes
2221 St. Claude Avenue (at Elysian Fields)
Thursday Classes are every 1st Thursday from 6pm to 8pm
Lake Charles Classes … only offering homebuyer club track at this time. This program is run in conjunction with Calcasieu Parish Police Jury and A Community Voice.
Every 3rd Thursday of the Month from 6pm to 8pm
Lake Charles City Hall 326 Pujo St. Lake Charles, LA
HOMEBUYER & FINANCIAL LITERACY TRAINING CURRICULUM

Homebuying basics
Fair housing laws
Shopping for a house
Repairing your credit
Budgeting
Obtaining a mortgage
Home inspection
Home appraisal
Homeowner's insurance
Loan closing
Life as a homeowner
Call 800-239-7379 for more information.
To Join the Next Housing Class and Sign up for Credit Counseling, please click below to start your membership today! Please choose option $10 Housing Program, monthly donation.
SUN Intake Form: to bring to your initial Loan Counseling Appointment
Homeowner Injustice:  Special report on housing stock in New Orleans flooded neighborhoods.
Fair Housing is the Law
Do you recognize these signs?  "Keep Out", "No Blacks", "No Ramp", "No Kids", "No Hispanics", "No Disabled". . . 
Probably not.   Housing discrimination usually isn't that obvious.  But it is real, and it happens every day in our communities.
Title VIII (The Fair Housing Act) protects every homebuyer and renter from discrimination on the basis of:
Race or color
National Origin
Religion
Sex
Familial Status
Handicap
If you think you have been a victim of Housing Discrimination, please call 800-239-7379 ext 101 for assistance.
Predatory Lending Facts:  Signs of Predatory Lending
Aggressive & deceptive marketing: checks in the mail with your name on it, construction companies calling you and asking you if you need home repairs and offering to get the money for you.
Property Flipping: selling a rundown house for way more than it is worth.
Loan Flipping: lenders aggressively encouraging you to refinance your home and then adding on extra fees to your new loan.
Negative Amortization:  your payment does not cover all of interest due or principal, so despite making regular payments your loan balance actually increases.
Balloon Payments: after making regular payments for a number of years, you must pay off the remaining loan balance which is usually more than they can afford because of increased interest rates which causes you to have to refinance with another loan with high fees.
Unnecessary credit insurance: gets thousands of dollars added onto your loan amount that you don't need.
Loans for way more than the value of your home.
Prepayment Penalties:  penalties for paying your loan off early or refinancing your loan.
Payments you can't afford:  mortgage companies give loans you can't afford so that they can foreclose on your house.
Higher interest rates: despite your good credit you are getting a higher than normal interest rate and being charged extra points.
Excessive fees were added to your loan that inflates your mortgage.
Housing Counseling Services
If you need counseling, we can help. Some people just need someone to work with them to get them bank ready and credit ready in order to boost their employment options, secure non-housing loans, or to start their own business.  SUN will work with you.  Please give us a call today.  All our clients receive one on one counseling and help in organizing their finances, creating a budget and building their financial options.
800-239-7379
Try this FREE app to check your credit score.